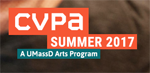 SEI/ELL & Special Needs for Art Educators
UMASS Dartmouth
Differential Learning or Different Teaching? Relating to Students with Special Needs in K-12 Art Classes
July 5 – 7 // VPA 500-8101
July 17 – 19 // VPA 500-8102
Cost: $150 // Maura & Peter Geisser
This course will focus on what art teachers need to know about their students and what special needs they may have. Participants will be asked to share past experiences, pose possible problems and look for better solutions in working with special needs populations in both integrated and self- contained classes.
*PDPs offered specifically for licensure renewal requirement regarding strategies for effective schooling for students with disabilities and instruction of students with diverse learning styles.
Sheltered English Immersion (SEI) for Arts Educators
June 28 – June 30 // VPA 501-8101
July 10 – 12 // VPA 501-8102
Cost: $150 // Constance Moore
The purpose of this class is to prepare Massachusetts art educators with the requisite knowledge and skills to shelter instruction effectively as it pertains to the discipline of the visual arts, and in so doing meet the needs of our ever increasing population of English language learners (ELLs), so that they can equitably "access the curriculum, achieve academic success, and contribute their multilingual and multicultural resources as participants and future leaders in the 21st century global economy."
*PDPs offered specifically for SEI/ English as a second language licensure renewal requirement.
Massachusetts Art Education Association Members receive 10% off workshops. Click here for more information
Additional summer courses and opportunities, please click here.
Questions: Call 508.999.9202 or email artsoceana@umassd.edu