POSTINGS
Museum of Fine Arts Professional Development Opportunities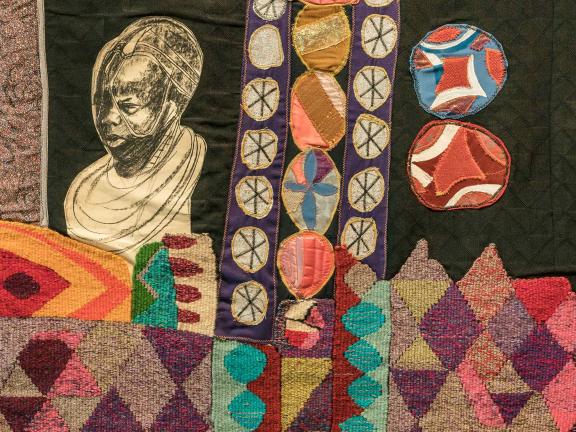 Educator Workshop: Black Ancestral Legacies
Museum of Fine Arts, Boston
Wednesday, May 10, 2023
4:00 pm–6:30 pm
Druker Family Pavilion (Classroom 160)
Free Ticket Required – Reserve now
Engage with the MFA's "Touching Roots: Black Ancestral Legacies in the Americas" with the curator and a local artist whose work is featured in the exhibition. Learn how stories of Black cultural heritage and artistic expression have grounded artists in the practices of making and defining their identities. This workshop is especially relevant for educators looking to bring diverse narratives into their classrooms to celebrate the creative, intellectual, and spiritual energy found throughout the African diaspora. Reserve your free ticket.
Napoleon Jones-Henderson, artist and educator
Martina Tanga, curatorial research and interpretation associate, Art Bridges Initiative
You can also share the exhibition with your students through a video recording of the in-gallery Distance Learning program African American Art: Black Artists, African Roots (for gr 6-12) and the exhibition website.
Image: Napoleon Jones-Henderson, Tricky Slicky (detail), 1991. Mixed textile media. Collection of Napoleon Jones-Henderson. © Napoleon Jones-Henderson.
Posted May 3, 2023
Adaptive Approaches and Creative Journaling for the 21st Century Art Educator
The NBAM/ArtWorks! Art educator professional development workshop is offered in collaboration with Southeastern Massachusetts Educational Collaborative.
Cost $150
Location: McCoy Recreation Center New Bedford
181 Hillman Street, New Bedford, MA, 02740 MACourse #: 2022-33
Course Info Contact: Sherri Tetrault, 508-998-5599 ex 130, stetrault@smecollaborative.org
Instructors: Susan Loesl, Taylor Hickey, Devin "Nived" McLaughlin
Registration deadline is October 30. Requests for withdrawals and refunds must be made prior to deadline. All cancellations subject to a $50 administration fee.
Registration on Smart PD https://app.smartedu.net/smec/pd or email Sherri Tetrault at stetrault@smecollaborative.org or call 508-9985599 ex 130.
Session I: Topic Virtual Interactive Presentation: Adaptive Art Strategies for All Learners
Art educators can be challenged to create opportunities for students with disabilities in the art room. This workshop focuses on discussing and trying adaptive tools, techniques and media as strategies to support all the learners in the artmaking process. Examples of adapted art activities will also be presented. Specific student and tweaked lesson plan questions are encouraged.
Session II: "Smash Book" Journals
Join NBAM/ArtWorks! educators Taylor Hickey and Devin 'Nived Art' McLaughlin as they lead you step-by-step through creating your own mixed media piano-hinge journals.This project is designed to meld the teaching styles of step by step instruction and open ended problem solving. Participants will be given all the tools to create the journal and freedom to think creatively and make a unique art piece.
This type of artful journaling captures ideas with writing, drawing, painting, or pasting memorabilia and other embellishments into your hand made book. You can use this book as a dream journal, scrapbook, poetry book, personal diary, sketch book, or lesson planner! The limit is your own imagination!
All materials will be included but please feel free to bring your own personal embellishments, clippings, or favorite art mediums to personalize your creation. Base paper stock size 9×12.
Posted October 25, 2022
Come explore how to integrate the role of fiber arts into Social Justice themes, Social Emotional Learning, History-Social Sciences, English Language Arts, and more.
Online virtual institute via Zoom for teachers, grades 3-8, all subjects
JULY 18-22, 2022 | 9:00-2:30
• Applicable for distance, hybrid, and in-person settings
• Worktime for lesson activity development included
• Participation in hands-on, interactive activity
• Optional CEUs available
• No cost to attend

Learn more and register here. Questions? ruby@sjquiltmuseum.org
Presented by the San Jose Museum of Quilts and Textiles in partnership with UCBerkeley History-Social Science Project. Funded by the California Cultural and Historical Endowment, California Natural Resources Agency
Posted June 6, 2022
Posted June 6, 2022
Audience: Arts content leaders/lead teachers, arts content coaches, and arts coordinators, arts content designees invited to attend by a district's curriculum director or school principal, and returning members of the 2020-2021 Arts Leaders Network
Locations and Dates: 10/20/21, 11/10/21, 12/8/21, 1/19/22, 3/16/22, 5/4/22; Main sessions run 4:00 pm – 5:30 pm with optional working group sessions from 5:30 pm – 6:30 pm
Questions: Dawn Benski, Dawn.M.Benski@mass.gov
Posted July 5, 2021
The Arts Leaders Network will support PreK-12 arts leaders to collaborate, to engage in discussions relevant to the arts and their role as leaders, and to share resources and strategies for addressing various arts content priorities across the state. Participants will be able to try out and discuss current and new arts instructional materials developed by DESE and connect with other arts leaders from across the Commonwealth.
This September 14 and 15, 2021, AEP invites you join to our second ever Virtual Gathering. While we are eager to convene in person, we have decided to host our annual event virtually given continued uncertainty and safety concerns.
Posted June 26, 2021
Consensus is an artistic game of "Telephone" that provides participants the option to respond to a work of art using any arts medium to help better understand the work around us. This collaborative project was developed by Sally Taylor.
Inspired by Sally Taylor's global creative initiative—The Consenses Curriculum is a beautifully crafted, unique, multidisciplinary approach to building social-emotional skills through the arts. Participants engage in a structured collaborative process of creating "Interpretive Chains," using a range of media to engage all five senses as they build understanding and appreciation for the value of diverse perspectives and the equality of all voices.
Posted June 26, 2021
Arts Are Core: Building Community Online Conference Register Now!
Arts Are Core presents an online conference experience with hands-on arts integration workshops in visual art, dance, music, drama, and poetry. Participate in teacher-created workshops and engaging presentations centered around our conference theme, Building Community. Participants will chat with presenters and fellow educators throughout the conference, walking away with enriched lesson plans connected to core curriculum, including downloadable resources to start the coming school year with creativity and energy!
Keynote Presenter:Glenis Redmond, Award-Winning Poet and Kennedy Center Teaching Artist
8:30AM-2:30PM, August 4th, Online Conference presented by the Beverley Taylor Sorenson Endowed Program for Elementary Arts Education at Utah State University
Network with fellow educators, live Q&A with presenters, post-conference access to all recorded sessions, handouts, and resources
For a detailed schedule, presenter list, workshop descriptions, and additional conference information see the Arts Are Core: Building Community website
Join our conference Facebook Group to chat with other conference attendees
Registration Costs:
$25.00 for Educators
$10.00 for University Students
Re-licensure points, CEU credit, and SUU academic credit available!
For more info visit the Conference Website: Arts Are Core 2021: Building Communityand see the attached flyer. Don't forget to check us out on Facebookand Instagram!
Posted June 6, 2021