MAEA is sponsoring a juried art exhibit for high school students, grades 9 – 12, open to MAEA members only. Entries reflect original artwork from students in public and private schools. The exhibition will coincide with the Youth Art Month exhibit at the Massachusetts Transportation Building with an awards ceremony on March 3, 2019.
Congratulations to all the artists who were accepted into this exhibit, and to the award winners!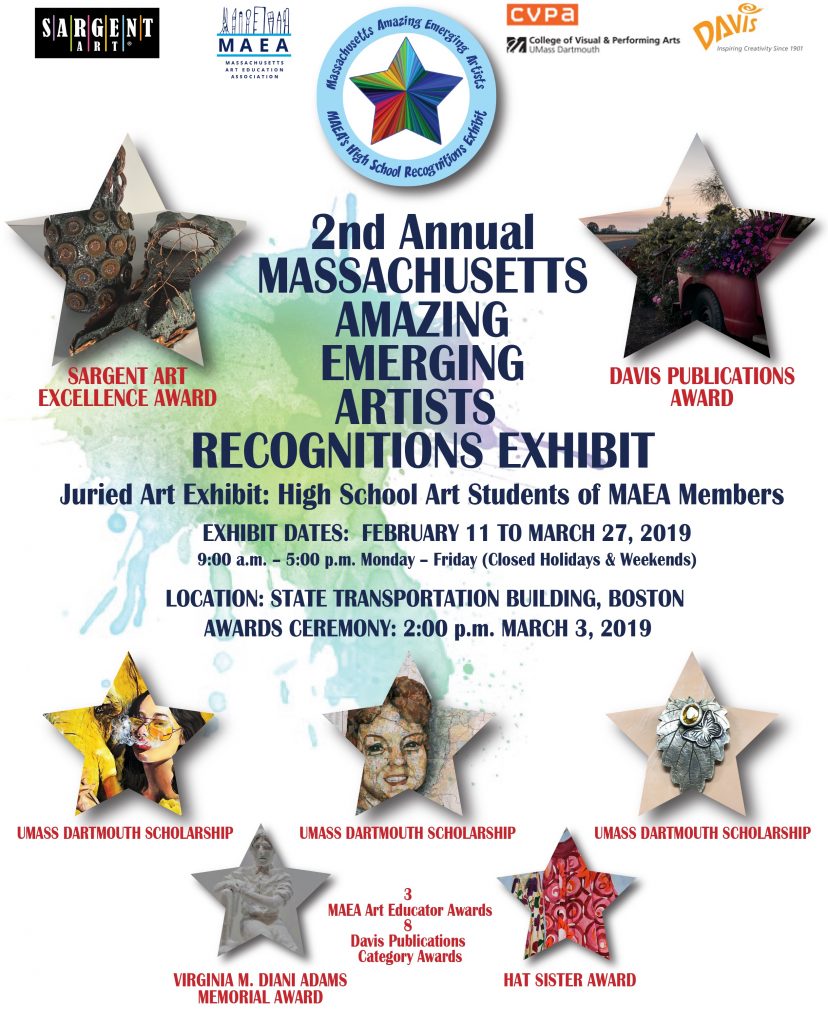 Sargent Art Excellence Award – $600 – Drew Conrad, Franklin HS
Davis Publications Award – $500 – Ben Stanton, Pembroke HS
Virginia M. Diani-Adams Award – $200 – Abbie Lyna, Innovation Academy Charter
Hat Sister Award – $250 -Anika Reichelt, Wayland HS 
MAEA Art Educator Awards – Three $50 awards

Tara Bilotta, Norwood HS
Victoria Johnson, Falmouth HS
Bec Patsenker, Wayland HS

University of Massachusetts Dartmouth Scholarship – Three $1000 scholarships activated if student selected applies to UMass Dartmouth and enrolls in a CVPA major/program.

Anastasia Baston, Dennis Yarmouth Regional HS
Katie Graham, Woburn HS
Jun Min Park, Groton-Dunstable Regional HS

Davis Publications Media Category Awards – $25 each media

Ceramics -Emily Adams, Falmouth HS
Digital/Graphic – Hope Joyce, Cardinal Spellman HS
Drawing – Parker Alderfer, West Boylston MHS
Mixed Media – Sophia Adelstein, Falmouth HS
Painting – Shuyu Zhang, Wayland HS
Photography – Clara Harrington, Swampscott HS
Printmaking – McKayla Caswell, Falmouth HS
Sculpture – Samantha Skobeleff, Winthrop HS
Now that your student work has been juried into the MAEA Recognitions Exhibit, start planning when and where you will be dropping off your student's work. Teachers around the state have volunteered to be a drop-off location during the week of January 14 -18. Check the link above for exact dates, times, locations, and contact information. You can also drop your work off directly to the State Transportation Building January 22, 26, and 30. Please remember to reach out to the teacher you will be dropping your work off to, so they know to expect you.
EXHIBIT DATES
February 11 – March 27, 2019. The exhibit is open weekdays 9:00 a.m. – 5:00 p.m. except Presidents' Day.
Family Celebration
Sunday March 3, 2019 12:00 – 4:00 p.m.
Awards Ceremony
Sunday March 3, 2019 2:00 p.m.