MAEA is sponsoring a juried art exhibit for high school students, grades 9 – 12, open to MAEA members only. Entries reflect original artwork from students in public and private schools. The exhibition will coincide with the Youth Art Month exhibit at the Massachusetts Transportation Building. The exhibit is open to the public weekdays, 9:00 a.m. to 5:00 p.m., February 10 – March 26, 2020. The exhibit is closed weekends and on Presidents' Day, Monday, February 17, 2020. Entrance to the exhibit is free. Parking is available at the building for a fee. 
Congratulations to all the artists who were accepted into this exhibit and to the award winners! View the web gallery for the exhibit here. 
The Family Celebration at the State Transportation Building, 10 Park Plaza, Boston took place on Sunday, March.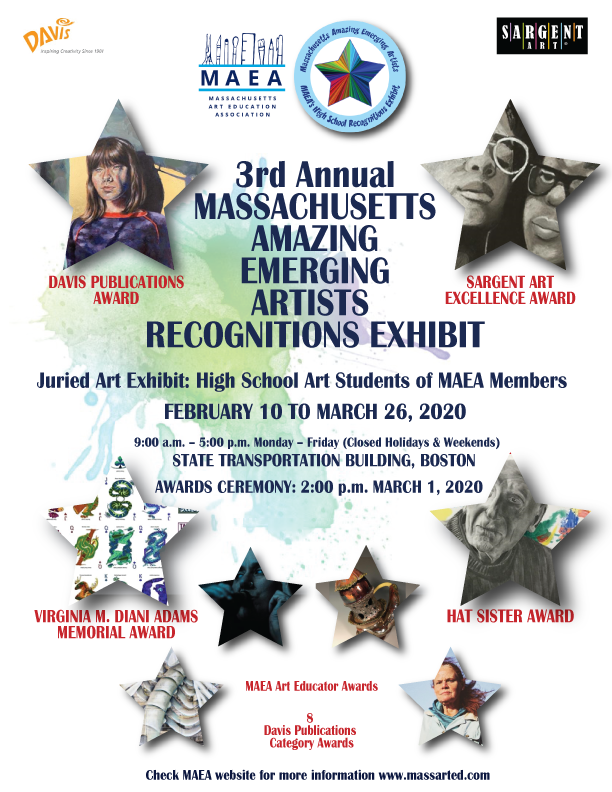 Davis Publications Award – $500 – Jackie Liu, Weston HS
Sargent Art Excellence Award  – $250 in Sargent art supplies and $500 in Sargent art supplies to the student's art teacher – Jordane Taylor, Norwood HS
Virginia M. Diani-Adams Award – $250 – Emma Hsiao, Weston HS
Hat Sister Award – $250 – Isabella DiPasquale, Manchester Essex Regional HS
MAEA Art Educator Awards – Four $50 awards

Katherine Graham, Woburn Memorial HS
Drew Conrad, Franklin HS
Benjamin Quigley, Swampscott HS
Hollis Howard, Swampscott HS

Davis Publications Media Category Awards – $25 each media

Ceramics – Hailey Donahue, Franklin HS
Digital/Graphic – Daniel Brown, Weston HS
Drawing – Shirui Wang, Weston HS
Mixed Media – Lauren Taylor, Millis HS
Painting – Fiona Marques, Fairhaven HS
Photography – Julia Zheku, Woburn Memorial HS
Printmaking – Brianna Waggett, Falmouth HS
Sculpture – Kaitlyn Carrara, Braintree HS
EXHIBIT DATES
February 10 – March 26, 2020. The exhibit is open weekdays 9:00 a.m. – 5:00 p.m. except Presidents' Day.
Family Celebration
Sunday March 1, 2020 12:00 – 4:00 p.m.
Awards Ceremony
Sunday March 1, 2020 2:00 p.m.