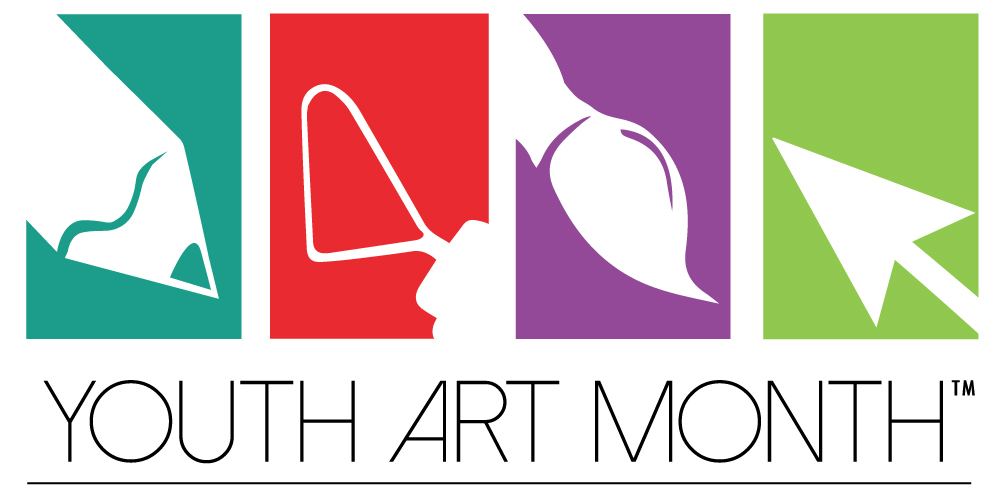 March is Youth Art Month!
There are lots of ways to participate in Youth Art Month 2020.
Don't forget you can also celebrate Youth Art Month in your school, with your district, and at a regional exhibit near you. Start your YAM planning for a school or district event with this quick start guide from the Council for Art Education.
Participating in multiple events spotlights more students and spreads the word on the great things happening in your classroom and the importance of quality art education!
For the Statewide Youth Art Month Exhibit & the MAEA Recognitions Exhibit – Please join us for a Family Celebration at the State Transportation Building, 10 Park Plaza, Boston Sunday, March 1, 2020 12:00 to 4:00 p.m.
The Youth Art Month Ceremony will be held at 12:30 p.m.
The MAEA Recognitions Ceremony will be held at 2:00 p.m. RSVP today! 
Congratulations to the Award winners
We are excited to announce the 2020 Massachusetts Youth Art Month Flag, as well as all of our honorable mentions. Thanks to Sargent Art for sponsoring the 2020 Youth Art Month Flag Contest. The 2020 Massachusetts Youth Art Month flag was designed by Haylee Wagner, Grade 12, Shepherd Hill Regional High School, Dudley – Teacher: Stephanie Lashua. See all the winning designs and honorable mentions here.
Congratulations are also in order to the President's Choice Award winners, whose work will be on display at the National Art Education Association Youth Art Month exhibit in Minneapolis, MN.
Hiba Khan, Gr 11
Timeless Progression, Drawing
Groton-Dunstable Regional High School, Teacher: Rebecca Kostich 
Justin Freeland, Gr 12
Commitment to Excellence, Photography
Oxford High School, Teacher: Evelyn Mwenye

Francisco Navarrete Granados, Gr 5
Stacked City, Drawing
Beachmont Elementary School, Revere, Teacher: Shaun Harris
Samuel Brooks, Gr 8
The Crying Shadow, Photography
Wayland Middle School, Teacher: Pete Curran
Avery Conine, Gr 1
John Breather, Painting
J.W. Killam Elementary School, Reading, Teacher: Amy Hussey
Benjamin Garcia, Gr 2
Ben, Drawing
The Oliver Partnership School, Lawrence, Teacher: Leslie Quinlan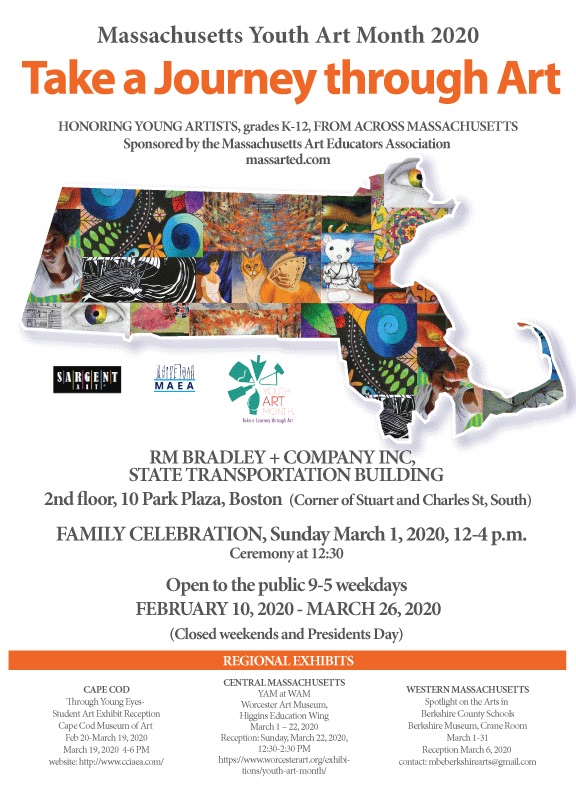 The Statewide Youth Art Month Exhibit is a huge undertaking with hundreds of pieces to exhibit. Please consider volunteering to install or take-down the exhibit on February 8 or March 28, or help with the Family Day Celebration on March 1. Sign up here! 
Thank you to Sargent Art for sponsoring Youth Art Month!