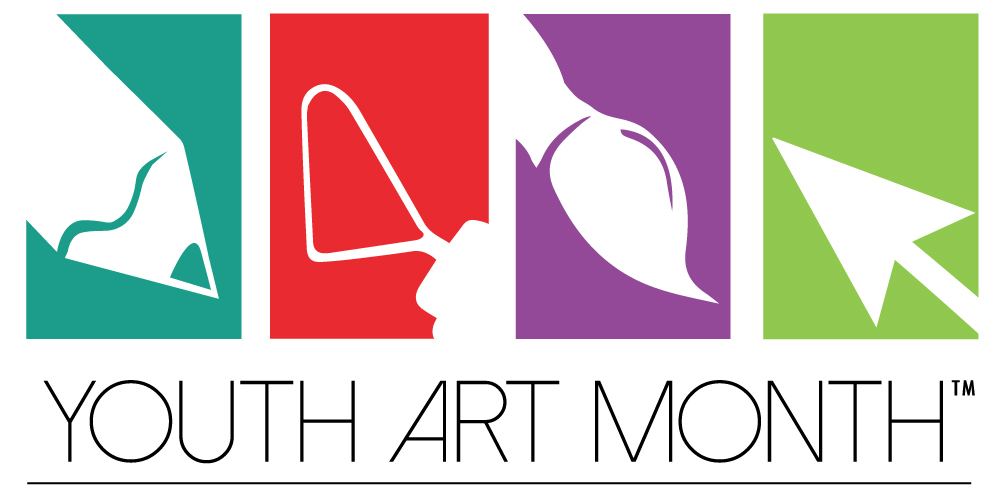 The Statewide Youth Art Month exhibit is virtual again this year. Teachers of artists in grades preK-12 are invited to participate in this year's virtual Youth Art Month exhibit. MAEA Members of students in grades 9-12 may also exhibit work in the Massachusetts Amazing Emerging Artists Recognitions exhibit, which is a juried exhibit for students in grades 9-12. We are also excited to continue with the Youth Art Month Flag Contest. Learn more about all of these opportunities below!
Statewide Virtual Youth Art Month Exhibit
We know many of you participate in celebrating the arts at a local or regional level. Please consider also participating and sharing your students' work on a state-wide level. Being virtual, this show can be shared with students' families and friends across the country or even the world! We are hoping to make this year's exhibit bigger and better than ever, and we need you! The deadline to register for this exhibit is January 20, 2023. Please read through the submission guidelines for everything you need to know about registering and submitting your student work to the virtual exhibit.
Exhibit Information:
All Massachusetts art teachers who register may submit up to six student works.

MAEA members may register free of charge.
Non Members are asked to pay a Teacher Registration Fee of $7

This is NOT $7 per work.
We accept payment through Paypal, by check, or purchase order. More details about processing payment can be found in the registration form.

Not currently a member?

Learn more about joining MAEA here

.

Registration closes January 20, 2023.
Once you register you will receive the Google Slides templates and be able to upload your students' artwork. The deadline to submit your slides is February 3, 2023. A video showing how to submit your slides will be added to the website soon.
Submission Guidelines:
You will use a Google Slides template that MAEA has created. You will have the ability to upload up to 6 works. They may be any combination of vertical, horizontal or square images.
Photos of work in Google Slides should be no larger than 720×520 pixels. Learn how to resize your images here.
Artwork should be original and be created by the student. It must not infringe upon the intellectual property rights of any other individual or entity.
The Massachusetts Art Education Association maintains the right to determine which works of art are appropriate for this exhibit. Any subject matter that is highly controversial, items, symbols, or themes that may represent racism, prejudice, profanity, or of a violent or lewd nature are not appropriate for this exhibit.
There is no limit to the physical size of the work this year.
Permission to exhibit work
It is the teacher's responsibility to obtain parental or guardian permission to put their student's work and information online.
You should you obtain permission before you submit your images
How you obtain permission is up to you, but here is Sample Student Release Form you can copy and edit.
Dates to remember
Now – January 20, 2023 – TEACHER REGISTRATION is open.
February 3, 2023 – Deadline to submit completed Google Slides.
February 4, 2023 – March 16, 2023 – YAM Committee will organize the slides and create the virtual exhibit
March 17, 2023 – MAEA's Statewide K-12 YAM Virtual Exhibit will open
Youth Art Month Flag Contest:
This year's this theme for YAM and the Flag Contest this year is "YOUR ART YOUR VOICE"
The flag contest is open to all students in grades K-12. 
Each teacher may submit up to 10 student entries.
Grand Prize of $200 art supply gift card for winning student. PLUS $100 art supply gift card for your classroom. And to top it off, the grand prize work will be displayed at NAEA's national convention in San Antonia, Texas!!!
In addition, $100 art supply gift cards will be awarded to one student winner in grades K-2, 3-5, 6-8, and 9-12. Plus an additional $100 art supply gift card for the winning students' classrooms.
Digital entries will be accepted December 2, 2022- January 13, 2023. Flag Contest entries will be uploaded via a Google form that will be posted soon.
Click here for the Youth Art Month Flag Contest Submission Form. Please note you must be signed into a Google Account to access this form due to the file upload settings. If you have trouble submitting the form at school please try at home. Your school/districts internet settings may see this form as an issue. If you try it at home and you still have trouble submitting this form, please reach out to youthartmonth@massarted.com for assistance.
Flag Contest Requirements:
Designs MUST
Represent the theme, "Your Art Your Voice"
Reflect age-appropriate skill and quality
Reflect original ideas
Contain a reference to Massachusetts: the complete word; the abbreviation (MA); an image or outline of state.
Be proportional to 3' X 5' (9" X 15" or 12" X 20" is suggested)
Designs MAY
Use images about Massachusetts
Use images about art
Use images about the arts in Massachusetts
Include the words Youth Art Month or the logo
Be vertical or horizontal in format (NOTE: Designs will be hung vertically)
Be done in any 2D medium including graphic design
Dates to Remember
December 2, 2022 – January 12, 2023 – Digital Flag Contest Entries Accepted.
April 13, 2023 – The Grand Prize Flag Design will be exhibited at the 2023 NAEA Convention in San Antonia, Texas.