Celebrate Youth Art Month – Have your students enter the Youth Art Month Flag Contest sponsored by Sargent Art. This contest is open to students in grades K-12. Each teacher may submit up to 10 entries. This year's theme is TAKE A JOURNEY THROUGH ART. Grand Prize $250 to student PLUS $500 in Sargent Art supplies for your classroom. $100 worth of Sargent Art supplies each for an Elementary, Middle, and High School student winner PLUS $300 in Sargent Art supplies for your classroom. Digital entries were accepted through December 20. 
Requirements
Artwork MUST
Reflect the theme

Demonstrate age-appropriate skill and quality

Be original

Be proportional to 3'x5'  – Suggested use 9"x15" OR 12"x20" paper

Contain the word Massachusetts, or include the state shape
Artwork MAY
Use images about Massachusetts

Use images about art

Use images that reflect the arts of/in Massachusetts

Use the words Youth Art Month or the logo

Be vertical or horizontal in format – please note the winning flag will be hung vertically
SUBMITTING DESIGNS
You may submit up to 10 student entries

Designs must be submitted by December 20

Photograph your entries and save them as jpegs

Rename each jpeg

EXACTLY

as follows: 

Grade.SchoolName.Student FirstNameLastName.jpg Example: FirstGrade.Conant.PrudenceCorreia.jpg
Questions? Please contact youthartmonth@massarted.com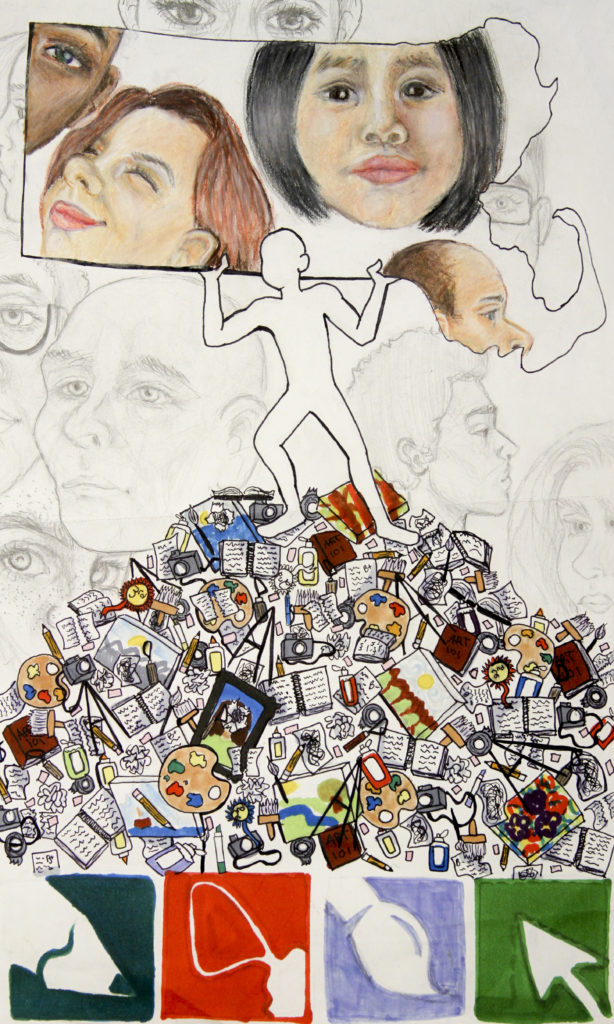 2019 winning design by Jesslyn Croteau from Shepherd Hill Regional High School, Teacher Stephanie Lashua
Thank you to Sargent Art for sponsoring Youth Art Month!