MAEA is excited to announce this summer's book for the Wicked BooksmART Book Group.
This summer THE Wicked BooksmART book group will be reading: Making Artists by Melissa Purtee and Ian Sands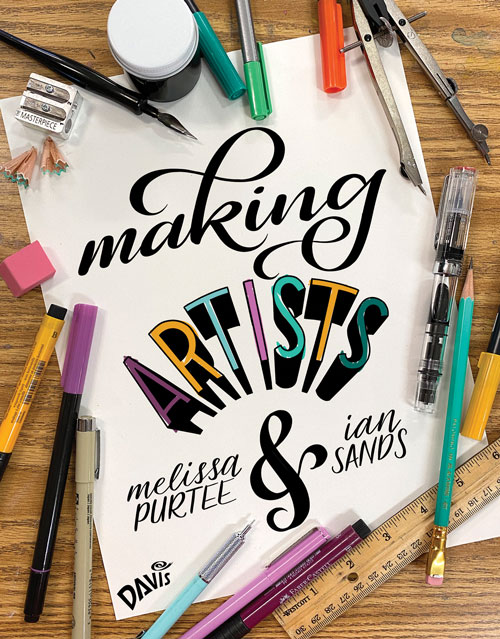 A discount code from Davis Publications for 10% off will be shared with participants AFTER registration.
Purchase a physical copy of the book here. $34.95
DATES: July 14 – August 25
FACILITATORS: Lydia Gruner & Jaimee Taborda
SYLLABUS: View or download
MEETING DAYS AND TIMES:
Live Zoom Meetings: Wednesdays 6:30 – 7:30 pm
July 14, July 21, July 28, August 4, August 11, August 18, August 25
Weeks 1-3: Scaffolding Student Learning
Weeks 4-6: Discovering New Methods for Making Artists
Week 7: Art Making
The Google Classroom will be used to share information, solicit questions, and host conversations. If you are unable to attend a live zoom session, you may respond to the corresponding reflection prompt in the Google Classroom to get credit for the week.
DESCRIPTION:
This seven-week book study will focus on the new book, Making Artists which is a follow up to the widely popular Open Art Room.  Here's what Davis publications has to say about this book: 
A comprehensive look at how and why a student-directed classroom is essential for the development of the student artist in the 21st century. Making Artists picks up where The Open Art Room left off, covering issues and situations choice teachers encounter as they design their program.This text provides tested methods for working through specific situations including room design, material handling, student ideation, production, and assessment. Additionally, you will enjoy a new set of unit and lesson plans to implement as you develop student-directed classrooms.
PROFESSIONAL DEVELOPMENT POINTS:
Participants will earn 15 PDPs after successful completion of all of the book group sessions.