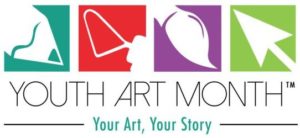 Make sure you are a part of our 2019 statewide Youth Art Month exhibit, where we will honor Massachusetts artists in grades k-12 and celebrate quality art education at the State Transportation Building in Boston.
Important Dates
Registration Open – 11/1 – 12/14  Exhibit Open – 2/11 – 3/27
Don't forget you can also celebrate Youth Art Month in your school, with your district, and at a regional exhibit near you. Start your YAM planning for a school or district event with this quick start guide from the Council for Art Education. Participating in multiple events spotlights more students and spreads the word on the great things happening in your classroom and the importance of quality art education!
Another way to participate is the Youth Art Month 2019 Flag Contest, open to students of MAEA members, grade k-12. Digital entries will be accepted November 1 – December 14. Learn more here. 
If you'd like to get involved and help with planning the statewide YAM exhibit please email Helen Downey at youthartmonth@massarted.com.