Important Dates and Information
NAHS chapter sponsors are invited to submit their NAHS student work for the annual NAHS exhibit Taking Shape at Hampshire College, Amherst in conjunction with the 2017 MAEA conference Shaping Human Potential.
Show Dates and Location:
On view, Thursday, November 8 – Friday, November 17, 2017
Hampshire College Art Gallery, Harold F. Johnson Library Building, Ground floor, 893 West Street, Amherst, MA 01002
Submission Deadline
Saturday, October 15, 2017
Acceptance Notification
Monday, October 17, 2017 – All artwork will be accepted, unless the work is inappropriate for the venue or not consistent with the originally submitted digital image.
Reception
Saturday, November 11, 2017 from 3:00 – 5:00 p.m.
Students and their families are invited to attend; light refreshments will be served.
Submission Instructions
We will accept electronic submissions only. Submissions should be completed with a two step process:
Complete the online registration form – click here.
Upload images of artwork to Dropbox – click here.

Label all image files as ArtistName.ArtworkNumber.Title.jpg
NAHS sponsors may submit digital images of no more than seven pieces. 2D work can be represented by one image and 3D work can be represented by up to three images.
Additional Submission Guidelines
Details and dates of delivery (10/23-10/27 and/or 10/30-11/3) and pick up (11/18 and 11/27-12/1) of artwork will be included in the acceptance notification. All work must be delivered to and picked up at a drop off location or at the exhibit site.
We cannot accept submissions of artwork that exceeds three feet in any one direction when matted or mounted and or work that exceeds 30 lbs. in weight.
2D work should be mounted or matted – no frames, no glass. Please make sure there is a backing to matted work to protect it from tearing. Canvas pieces do not have to be mounted or matted.
Please make sure students name and school are written on the back of each piece. Include all signed artwork release forms, attached to the back of each piece as well.
3D work should be delivered with display instructions if necessary.
The MAEA maintains the right to not exhibit work which is inappropriate for the venue or not consistent with the originally submitted digital image.
The exhibit space is a gallery space at Hampshire College, in Amherst, MA. MAEA will not be insuring the exhibit.
Gallery Hours
Monday – Friday, 10:30 a.m – 4:30 p.m.
Sunday, 2:00 – 5:00 p.m.
Saturday November 11, 3:00 – 5:00 p.m.
Show Set Up & Take Down – Volunteers Needed!
Set Up: Wednesday, November 7, Time TBD
Take Down: Saturday, November 18 Time TBD
If you are interested in assisting the committee please email conference@massarted.com for more information.
Packing Instructions
A sheet of newsprint paper over the front protects most work.
If you can pack the work in a portfolio, that is easiest, but if not, it would be best to stack like-sized pieces between two pieces of corrugated board, and tape the boards, or wrap in paper, and then tape.
Works on canvas should be individually wrapped. Don't forget to protect corners.
Attach the Packing List form on the outside of your package.
Representative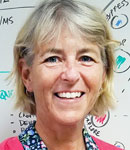 National Art Honor Society Representative
Heidi Hurley
Braintree Public Schools
Downloads