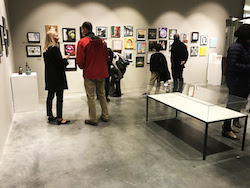 Lesley University's College of Art and Design is currently hosting an exhibition of artwork by students who attend schools associated with AANEPS. The exhibition includes work by roughly 120 students from thirteen different preparatory schools — including St. Marks, Thayer Academic, BB&N, Milton Academy, Winsor School, etc. For this project, the students were asked to produce work that explored the concept of "identity." Needless to say, the results are both interesting and compelling!
The exhibition serves to inaugurate a collaborative partnership between LUCAD and AANEPS, and was scheduled to coincide with the ISAIA conference at the Milton Academy. Given Lesley University's historic commitment to the visual arts and art education, we were thrilled to sponsor this exhibition and to highlight the work of so many young artists.
The exhibition is free and open to the public, and we encourage teachers and students from local schools to visit the show. The exhibit will be on view from December 2 – 18.
Click here for a Boston University Daily Free Press article about the exhibit.