Meg Kuker – The Family Cooperative, Watertown, MA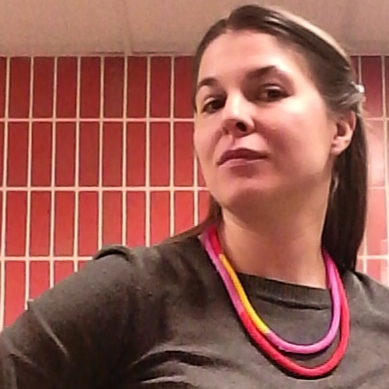 Meg Kuker earned her BFA from Massachusetts College of Art in 2009, where she majored in Art History and Fiber Arts. After college, she fell into working with young children almost by accident. In 2015, she earned her Masters of Education from Lesley University's Creative Arts in Learning program. She works with one and two-year-old children at The Family Cooperative in Watertown, MA.
Meg and her amazing co-teachers work hard to make art a part of every day in their classroom. She believes that engaging in art in the earliest years supports children's development across all domains – in art-making, children can experience cause and effect, build their small motor capabilities, increase their attention spans, support their expressive language, and find ways to regulate their emotions. Meg is a firm believer that even the very youngest children are artists, expressing intention in the way they use their materials. She also firmly believes that early experience with art tools and materials makes children ready for more long-term and meaningful art engagement in later years (not to mention creative thinking, problem solving, and expression of thoughts and ideas).
Meg is also an adjunct professor at Bunker Hill Community College where she encourages students to realize the significance of the Reggio Approach and play-based art experiences in their practices with young children. In addition, she serves on the board of the Boston Area Reggio Inspired Network and has hosted workshops for Early Childhood Educators on process-based art and using multiple modes of visual representation with young children. Meg exhibited student work in the very first MAEA Early Childhood exhibition, demonstrating that toddlers can produce meaningful and ephemeral art. She was also a contributor and presenter for the Wonder of Learning Exhibition from Reggio Emilia that was recently hosted in Boston.
Meg is grateful to work with a group of toddlers that enliven her every day and show the potential for creative thought and expression in young children. She is also very grateful to be a part of a connected field of professionals that challenge, support, and inspire.
The MAEA Board of Directors are looking forward to honoring and celebrating the 2019 MAEA Art Educators of the Year at the 2019 NAEA Convention in Boston and we hope you will join us!
The awards ceremony has been scheduled for March 16, 2019 at 11:00 – 11:50 a.m. in Meeting Room 310/Center at the Hynes Convention Center, 900 Boylston Street, Boston, MA. Registration for the NAEA Convention is NOT required to attend the MAEA Awards Ceremony.