Emma Baker, Lynn Public Schools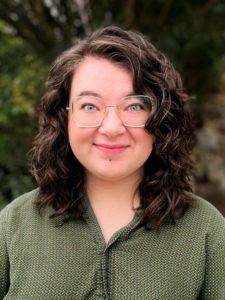 Emma Baker teaches Elementary Art in Lynn. Originally from West Virginia, she moved to Massachusetts in 2021 after completing her MA in Art Education in New York.
In her artistic practice, she follows an investigative, material-focused process; in the classroom, she aims for her students to do the same. Emma believes that the most foundational and lifelong lessons we teach in the art classroom are about exploration, persistence, connection, and adaptation—by learning to think like artists, students gain the skills and tools necessary to grow into thoughtful, perceptive young citizens who feel agency to shape their lives and communities. 
Following a year in which the pandemic impacted students' learning opportunities, ensuring student choice and voice in the classroom was paramount to her practice. Emma's students experiment with the full range of artistic materials, make art related to their own unique experiences, reflect on their process, and make connections between their own work and that of others.
As a new educator, Emma has learned so much from her students. She is excited to continue learning from the students of Lynn and the Commonwealth of Massachusetts for many years to come.