Jennifer Ferrari – Bedford Public Schools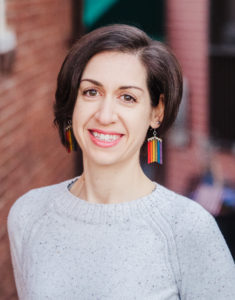 Jennifer Ferrari is the visual art teacher at Lane Elementary School in Bedford, Massachusetts. She earned her dual bachelor's degrees in fine art and communication from the University of Massachusetts Amherst and master's degree in educational studies from Springfield College. She believes wholeheartedly in the significance of student voice and power of choice in the art room, working alongside her young artists as they together develop a learner-directed curriculum that centers on their authentic interests.
Jen currently serves on the Board of Directors for Teaching for Artistic Behavior (TAB), Inc., is the co-host of the podcast TAB Storytellers, and functions as a Regional Leader for TAB Northeast (a division of TAB, Inc). In these roles, she provides professional development opportunities for educators seeking to expand their TAB practice, specializing in inquiry-based learning, DEI, curriculum development, and assessment. She is a passionate advocate of TAB, having written articles for national magazines as well as presented at both state and national conferences.
When not creating with her students at Lane, you can find her spending time with her two young children and husband.
The award recipients will be honored on November 12, 2022 at 6:00 p.m. at the Worcester Art Museum (enter at the Lancaster Street entrance). Please join us to celebrate the 2023 award recipients, as well as the 2022 and 2021 award recipients. The awards ceremony will start promptly at 6:15 p.m. and will be followed immediately by the 2022 MAEA Members Exhibit reception. RSVP on Facebook here.