Jessica Lazarus – Pembroke Public Schools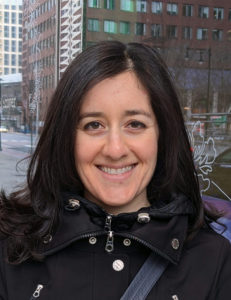 Inquiry. Exploration. Collaboration. Authenticity. These are the earmarks of learning 21st Century Skills through Design. Using a student-centered approach, educator Jessica Lazarus teaches Media Arts to all grade levels at Pembroke High School. In a cooperative environment, students utilize Graphic, AR, and UX to explore their own ideas, as well as gain essential digital and visual skill sets. Jessica teaches a myriad of courses:  Intro to 3D Animation, Digital Art I-IV, Multimedia Design, Digital Photography and 3D Printing & Product Design, and delights in sharing both student voices and choices, as evidenced by their brilliant creations, on social media and in print. Her credentials include presenting at the 2022 NAEA and MAEA State Conferences regarding a collaboration called Connecting Communities through Documentary Photography: Building a Bridge to Develop Empathy Through Documentary Photography. In the 2021 ISTE Creative Constructor Lab, she collaborated on: Level Up with AR and at the MassCUE 2021 Conference and presented on 3D Printing in the Era of Covid-19.
Follow and connect with her on Twitter @MsLazarusPHS and on Instagram @DigitalArtPHS and view her Youtube Channel.
The award recipients will be honored on November 12, 2022 at 6:00 p.m. at the Worcester Art Museum (enter at the Lancaster Street entrance). Please join us to celebrate the 2023 award recipients, as well as the 2022 and 2021 award recipients. The awards ceremony will start promptly at 6:15 p.m. and will be followed immediately by the 2022 MAEA Members Exhibit reception. RSVP on Facebook here.